Lucia Clinic Introduction
The Lucia Aesthetic & Dermatology Center, located in the center of Jumeirah, is one of Dubai's renowned medical centers. It is a pioneer in the field of non-surgical and surgical operations and is located near the spectacular Burj Khalifa, opposite the Four Seasons resort.
Lucia Aesthetic & Dermatology Clinic has established a name in surgical and non-surgical aesthetic treatments and today, Lucia is a trusted name in the world of aesthetics. Owing to its remarkably skilled and creative team of skin specialists and cosmetic surgeons, Lucia Clinic takes pride in serving a lot of famous personalities from all across the world.
Lucia puts its faith in redefining skin healthcare with the help of minimal yet latest skin treatments which are bound to leave long-lasting results. The skin aestheticians at Lucia Clinic are well-versed and have creative and artistic approaches to aesthetics. With state-of-the-art medical procedures and skin rejuvenation techniques, the skin specialists at Lucia Clinic Jumeirah serve personalized skincare plans for every client.
Although there are a lot of aesthetic clinics in Dubai, Lucia has set a benchmark with its personalized approach toward the skin goals of each individual. The incomparable work ethic and impeccable skin results make Lucia Clinic a favorite spot to redefine skincare.
A jampacked team of the finest skin aestheticians and cosmetic surgeons
The legacy of Lucia Aesthetic Clinic is well defined by its dynamite team of Anti-ageing specialists, Reconstructive and Aesthetic surgeons who understand the unique skin goals of each individual and create skin solutions that suit them the most. The goal of each skin surgeon working at Lucia is to help people in achieving the desired skin results with the help of minimally invasive procedures.
Exceptional surgical and non-surgical procedures
Lucia Clinic houses some of the finest and most modern medical applications and techniques which produce natural and flawless skin results. Whether it is a less-invasive treatment of varicose veins or performing skin-tightening procedures or delicate cosmetic surgery, each procedure is performed with utmost care to produce the best possible results.
A wide array of body and skin procedures
Lucia aesthetic & dermatology clinic offers an exquisite range of body and skin procedures by utilizing the latest in-house equipment. A few of the body and skin services available at Lucia Clinic Dubai include body contouring, dermal fillers, body fat reduction through Lipolysis Treatment, Laser Hair removal, cellulite reduction, scar removal treatment, skin tattoo removal, Hand and skin rejuvenation, Sclerotherapy, chemical peels, acne treatment, Microdermabrasion treatment, and a lot more.
Emsculpt NEO
Emsculpt NEO is a non-surgical procedure that eliminates fat and redefines muscles. Lucia Aesthetic & Dermatology Clinic takes pride in becoming the first hospital in Asia to provide the services of Emsculpt NEO. Within the process of 30 minutes, you get a more defined body with less fat concentration, especially in stubborn areas. Lucia ensures to provide comfortable and natural-looking results with its Emsculpt NEO treatment.
Trusted by various global celebrities
The exceptional skin toning and rejuvenation procedures offered at Lucia are also trusted by a lot of famous celebrities from all walks of life. Various beauty bloggers, sports persons, beauty influencers, and top-class actors trust Lucia clinic for their skin care.
Services
3D Skin Analysis Camera
AFT (Photo-Rejuvenation)
Accent Prime
Acne Scars Treatment
AnteAGE MD
AquaGold Fine Touch
BOTOX®
Chemical Peels
Clear + Brilliant
Clear Lift
Clear Skin
Collagen Therapy
Cosmelan Peel
Dermal Fillers
Dermapen Treatment
Ellansé
HydraFacial Treatment
Isolaz 2
LED Mask Treatment
Lip Fillers
MD Codes
Meso-Threads
Mesotherapy
Microdermabrasion Treatment
Microneedling
Non-Surgical Lift
PBSerum
Permanent Makeup
Platelet Rich Plasma
Profhilo
RF Pixel
Restylane & Skin booster
Scar Removal Treatment
Sculptra
Secret Erbium
Secret Fractional RF Microneedling
Skin Medica
Thermage for Eyes
Thermage for Face
Thread Lift Therapy
Ultherapy Treatment
Venus Freeze
Viora Reaction
Viora ST
Volumizing Fillers
Wrinkle Treatment
iPIXEL Laser
Body Contouring with HYAcorp Body Fillers
Cellulite Removal
Coolsculpting™
Emsculpt
Emsculpt Neo
Fractional Laser Treatment
Hand Rejuvenation
Lipolysis Treatment
Medcontour
Mesotherapy
Soprano Ice Treatment
Stretchcare Mesotherapy
Thermage for Body
Ultherapy
Venus Freeze
Viora Reaction
Viora V-Form
Arm Lift / Brachioplasty
Blepharoplasty
Body Contouring + Fat Grafting
Breast Enlargement / Breast Augmentation
Breast Lift / Mastopexy
Breast Reduction / Reduction Mammoplasty
Brow-Forehead Lift
Face Lift
Gynecomastia / Male Breast Reduction
Hip Augmentation
Leg Lift
Liposuction
Otoplasty
Rhinoplasty
Tummy Tuck Full
Acell + PRP
Allergy Diagnostic Testing and Therapy
Cryotherapy Treatment
DNA Skin Tests
Excessive Sweating Treatment
General Diagnosis of Skin Disease
Hair Loss Treatment
Men's Hair Loss Treatment
Mole Check
Rosacea
Scar Removal Treatment
Skin Tag Removal
Gent's Signature Facial
Lines and Wrinkles Treatment for Men
Men's Hair Loss Treatment
Men's Excessive Sweating Underarms Treatment
Men's Hair Reduction by Laser
Stubborn-Fat & Gynecomastia / Enlarged Man's Breast Treatments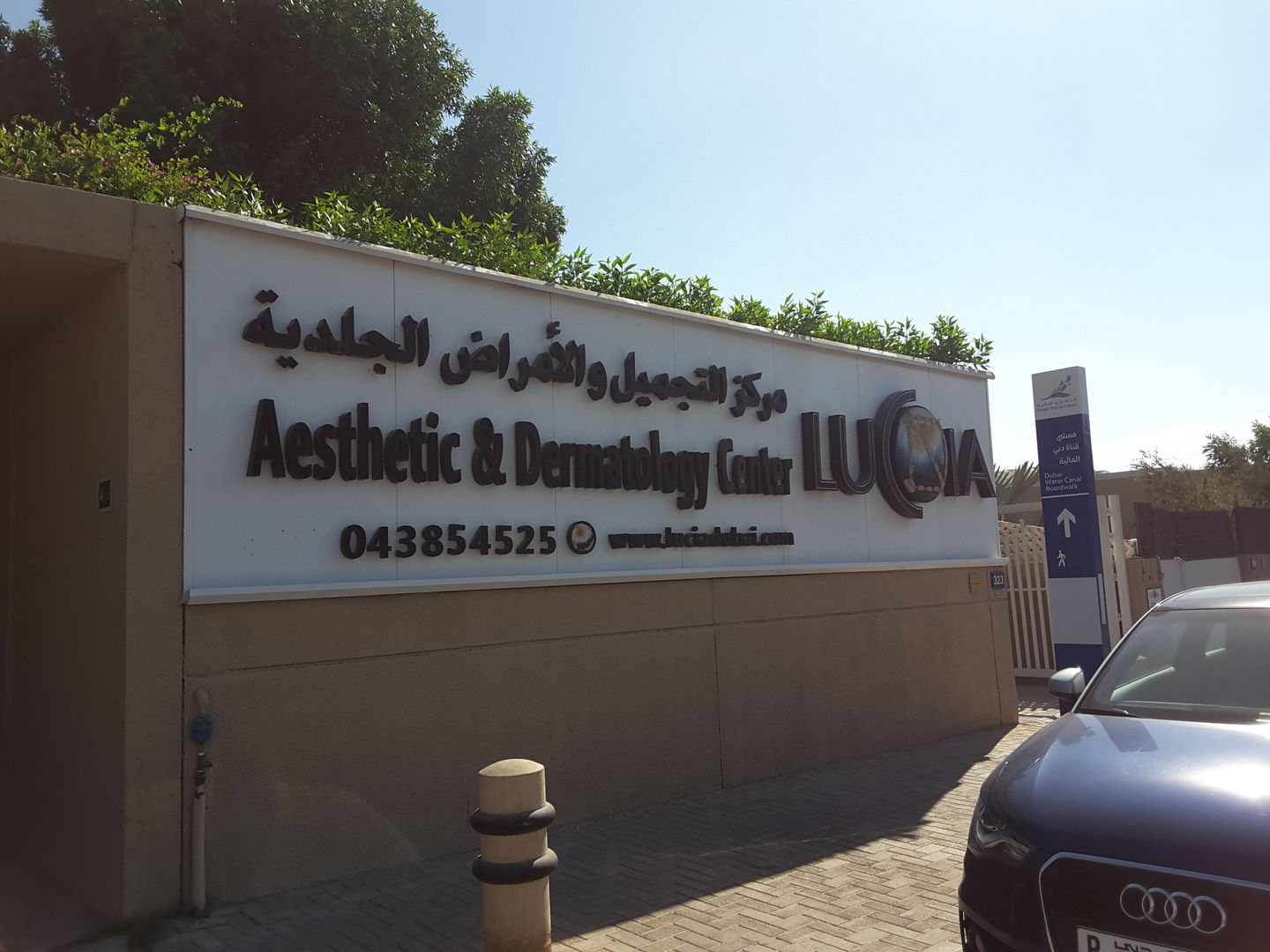 Lucia Clinic Team
Dr. Radmila Lukian – Dermatologist and Anti-ageing specialist/ Founder
Dr. Alessandro Caielli – Certified Plastic, Reconstructive and Aesthetic surgeon
Dr. Evana Janbeh – Dermatologist and Aesthetician
Dr. Aliya Nurpeissova – Cosmetic doctor and Anesthesiologist
Dr. Marta Duarte – Aesthetic Physician
Dr. Kris Wasilewski – Vascular Surgeon
Working Hours
Monday

(Day of Arafat/Eid al-Adha)

9 am–8 pm
Tuesday

(Eid al-Adha)

9 am–8 pm
Wednesday

(Eid al-Adha)

9 am–8 pm
Thursday

(Eid al-Adha)

9 am–8 pm
Friday
Closed
Saturday
9 am–8 pm
Sunday
9 am–8 pm
Special Offers
| | |
| --- | --- |
| Package Name | Price |
| Get Fit – Emsculpt NEO for Abs or Buttocks | 8400 AED |
| Get Slim – 2 Coolsculpting Applicators | 3675 AED |
| Get Freshen Up – Botox Treatment for Underarm Sweating | 2625 AED |
Contact
Phone: +971 4 385 4525
Mob/WhatsApp: +971 56 115 9194
Address: Jumeirah 2 Opposite Four Seasons Resort Jumeirah Beach Road, Villa 323 P.O. Box 214260 Dubai, UAE
Original Website: https://www.luciaclinic.com/
Social Media Presence
Facebook: https://facebook.com/LuciaClinicDubai/
Instagram: https://www.instagram.com/luciaclinic/
YouTube: https://www.youtube.com/user/LuciaAestheticClinic/videos
Other hospitals, clinics, and medical centers in UAE
Valiant Clinic & Hospital, Dubai
Jupiter Medical Clinic, Dubai
Koster Clinic Dubai
iCare Clinic Dubai
Gargash Hospital, Dubai