Your child may require braces for their teeth to resolve any underlying orthodontic condition. However, metal braces are no longer the best choice for straightening your children's teeth.
With the advent of Invisalign, more families are considering this treatment option for their children, not just for aesthetic reasons but also for the simplicity of maintenance and cleaning. Invisalign, also known as clear aligners, is considered one of the best options to straighten teeth while being inconspicuous.
Undoubtedly, there are several advantages related to the procedure, but some downsides also raise the question, is your kid eligible for an Invisalign?
Can your kid or teen opt for Invisalign treatment?
Yes, most kids can receive Invisalign. At our dental practice Invisalign UAE, qualified orthodontic specialist Dr. Sulaimani – one of the most proficient orthodontists in Dubai, will help assess the best treatment choice for your kid that will help bring out the best in a budding smile.
However, in rare instances, a kid may get Invisalign without having all their permanent teeth. While Invisalign for teens works similarly to Invisalign for adults, it is developed specifically for younger patients.
How Does Invisalign Work for Kids & Teens?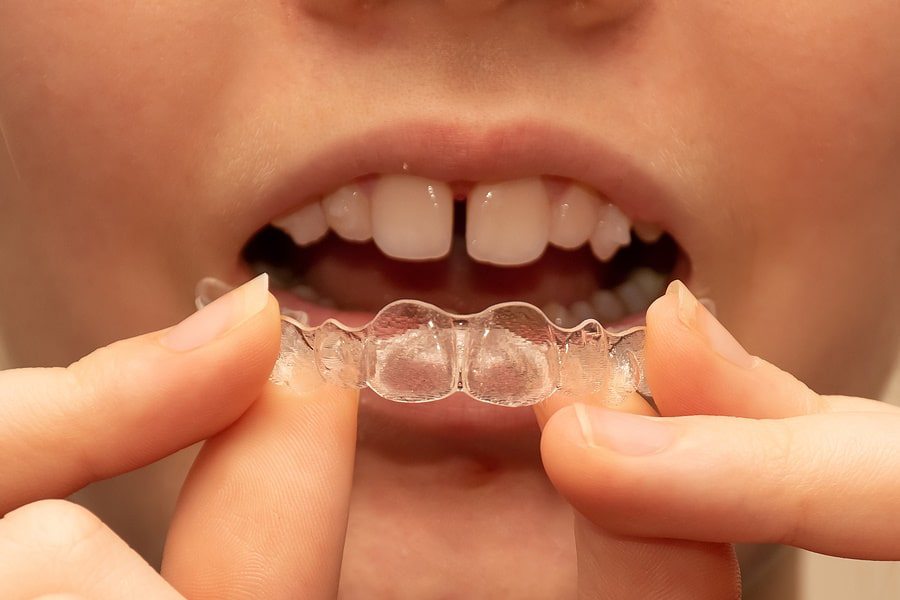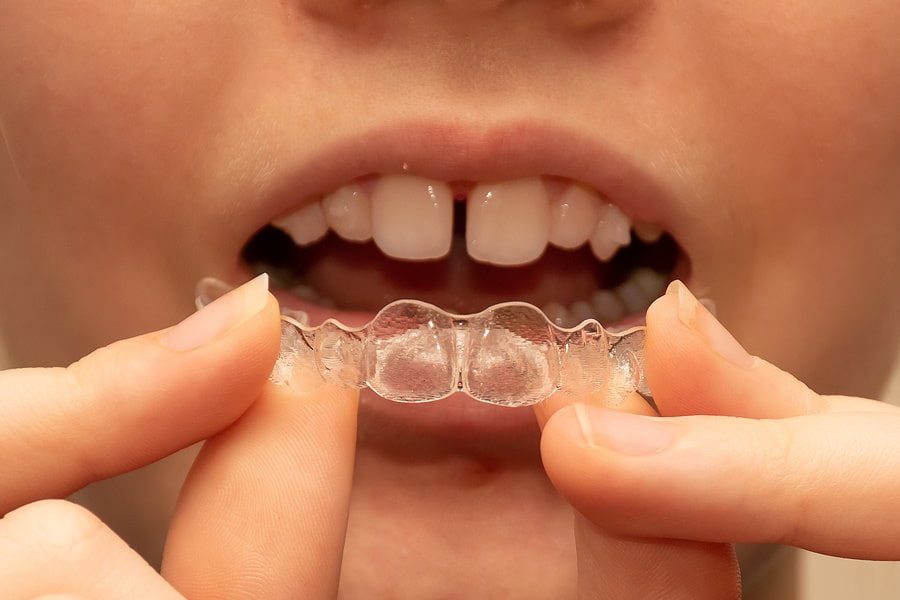 The first step begins with an initial consultation at our Invisalign UAE, one of the only Diamond Apex providers in Dubai.
We will review your child's diagnostic records and conduct a comprehensive assessment. The preliminary evaluation process will enable Dr. Sulaimani to formulate a precise diagnosis and specific treatment plan for your child.
At this initial consultation, we will answer all your queries. If our dentist considers Invisalign the best choice for your kid or teen, a team member will take digital impressions of your kid's mouth.
Once the treatment plan is determined, your kid's braces will be prepared. When your child's Invisalign aligners are ready, you may pick them up from the Invisalign lab.
Your kid or teen must wear their Invisalign aligners for around 20 to 22 hours daily to achieve the best result. However, you must know they can remove these transparent braces while eating, drinking, brushing, and flossing their teeth.
Since the aligners fit securely on the teeth and provide consistent, mild pressure to push teeth into a proper position, typically, your child must switch to a new pair of Invisalign aligners every week or as prescribed by Dr. Sulaimani.
Last but not least, take note that your kid does not miss any follow-up appointments because, in these sessions, our orthodontist can monitor the overall development. Once your kid accomplishes the desired result, they are free to remove the last set of Invisalign aligners, to reveal a beautiful, healthy smile.
Advantages of Invisalign aligners for kids and teens
There are several benefits associated with Invisalign for kids and teens. Here are some of the most crucial ones:
The smooth, BPA-free, transparent plastic of Invisalign allows it to blend in almost perfectly with the teeth. So most people will not even be aware of your child's aligners, and your kid can smile with confidence during treatment.
It's hard to impose food restrictions on kids and teens. With Invisalign, there are no diet restrictions, and your kid may continue to enjoy their favorite foods as long as they first remove their aligners and brush their teeth before re-inserting them.
Since Invisalign are removable, it becomes easier for your kid to maintain optimal oral health by brushing and flossing efficiently.
Unlike traditional braces, Invisalign aligners are comfortable to wear and do not cause any oral irritation. You may experience minor discomfort during the first few weeks, but that will most likely resolve within a few days when you become acquainted with the aligners.
Invisalign is ideal for teens who are into sports or are musicians. Children need not worry about being struck in the mouth during a game or cutting their lip when attempting a high note.
While children must wear clear aligners for 20 to 22 hours each day, they may remove them during special occasions such as class photographs, school dances or while wearing a mouthguard for sports.
Is there any Downside to Aligners for Kids and teens?
Several advantages are associated with Invisalign treatment for younger patients, but you might be unaware of the one possible disadvantage. While undergoing this orthodontic treatment, your child must store their aligners in a case when they are not wearing them.
Because Invisalign aligners are removable,  your child may lose them. Nevertheless, if you can train your kid in the best possible way, you might be able to avoid this concern.
Invisalign cost for kids and teens
Several factors drive the cost of Invisalign, and one of the most crucial factors is the severity of your child's oral condition. If you want to know the treatment's exact cost, we recommend you visit best clinics in UAE.
At our clinic, Dr. Sulaimani will examine and diagnose your kid's oral condition during the first session before providing you with the actual Invisalign cost.
Being one of the top Invisalign providers in Dubai, we endeavor to make orthodontic appliances and Invisalign affordable for all families. If your insurance covers orthodontic care, this may significantly lower your out-of-pocket expenses. In addition, we also provide various financing alternatives, including no-interest, and in-office financing, to accommodate your budget.
Is your kid or teen ready to undergo the treatment?
Now that you know that kids and teens are eligible to undergo, it's time to determine whether your child is suitable for the process!
Schedule a free consultation with us at Invisalign UAE to get your answer. Not only are we a renowned Invisalign provider in Dubai, but we're also among the top one percent of providers nationwide.
Dr. Sulaimani and his team of professionals have been offering premium services to patients of all ages, including those with challenging problems, using Invisalign. And the most significant part is that we make the procedure joyful and enjoyable for both children and their parents!
Are you ready to bring your kid anytime soon to our clinic?