As social media becomes an integral part of everyone's life, healthcare services do not ever lag. Healthcare professionals are now using social media platforms to communicate and get in touch with their patients, creating awareness, and sharing their experiences. Social media and networks have become a major health source and UAE is now conducting its first healthcare social media summit.
Digital marketing has grown over the years and has improved the healthcare industry as well. With the use of search engines as one tool, it has created a targeted audience and reached out to them, engaging patients, and doctors on social media platforms.
How Is Social Media Used By E-Medicine Services?
Different ways are used by healthcare professionals and managers to enhance their services and medical information. Here are some areas where social media is being used.
1. Sharing Information
Social media is used by healthcare organizations to share information about medical concerns like flu shots, tips for avoiding colds, and much more. Sometimes social media is used to aware the public about health hazards and outbreaks. Some other ways of social media use include providing updates on technology, answer questions, give pre-and post-operative care to patients, offer patients any help, etc.
2. Deliver Medicine to Patient Homes
Healthcare professionals use social media and sites to deliver their medicines to patients at their homes. With these sites and social media, healthcare professionals take online orders for medicines and deliver them to patients in the comfort of their homes.
3. Training Medical Personnel
Healthcare organizations also use social media channels to prepare and train the staff. Trainees are taught to use hashtags on Twitter, and then join social media groups to make the experience more interactive and engaging. These techniques train the trainees to receive answers and ask questions. Participants can give immediate feedback on the sessions with social media.
Benefits Of Using Social Media For Healthcare
Social media usage for healthcare purposes in the USA can improve the whole process in a few simple ways.
1. Raising Awareness
Social media is used to raise awareness among the public about any new or emerging health concerns. This can include simple healthcare tips, as well as practices for a healthy life.
2. Talking Misinformation
Social media spreads any information like wildfire, and within seconds it has reached a hundred people. This happens after gaining social media followers from these websites on networks like Instagram and Twitter. As a result, there can be a lot of spreading misinformation very easily. So, to tackle this misinformation social media can be used. You can sate the published research or information from credible sources such as WHO or CDC to overcome the rumor or misinformation.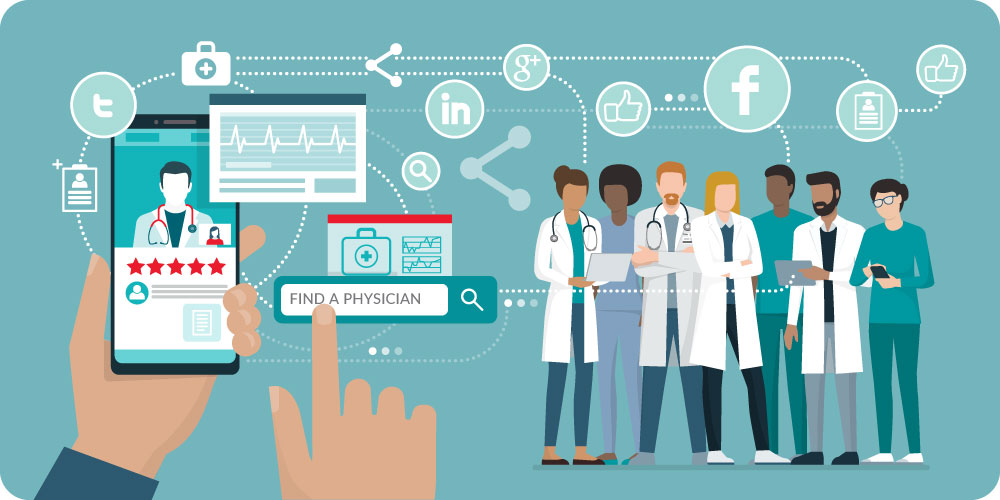 3. Answering Some Common Questions
Health organizations and authorities can take benefit from social media to answer the health concerns of the public. Social media hence offers are the credible and creative sources to address some important questions and to give answers to them. Social media chats like Facebook Messenger chatbot can be used to directly answers questions of the people, as well as to tackle any misconceptions.