Your smile is your biggest asset so smile wider with your shining white teeth, with no paleness or unpleasant smell.
But if you're frustrated with the yellow or stained teeth, you need to contact a dental care clinic in Dubai as soon as possible because it can lead to various other dental diseases later.
A smile is one of those first and foremost things which people notice about you, and also it amplifies your confidence level. A white smile is a dream for so many because it enhances youthfulness and positivity.
So if you're looking to get those white glossy teeth, this blog post would be of great help. Dive into it to find out the best teeth-whitening clinics in Dubai and get your teeth treated the right way.
Why do I need to go for Teeth Whitening?
Gone are the days when teeth whitening was merely regarded as a cosmetic procedure. Today, it has become one of the vital medical treatments that save your teeth and gums from any harmful ingredients using cautious dental treatments.
The term 'Teeth-whitening' covers more than just teeth brightening. Our teeth start discoloring with time due to all that junk food, coffee spills, or medicines we intake. The outer enamel starts thinning with time, making the inner yellow dentin more visible. This gradual discoloration is not possible to control only with regular brushing.
For better results within less time, you need to go for teeth-whitening sessions from the best dental clinic in Dubai. The teeth whitening does not damage your enamel and breaks the stain buildup without using any harmful whitening chemicals.
If you're looking for exceptional teeth-whitening services in Dubai, we have made this blog post for you. The price of teeth-whitening services varies depending on the experience, dental treatments, and location. Look into these dental clinics in Dubai to find out the reliable and excellent teeth-whitening services in your city.
Best Teeth-Whitening in Dubai
1. Dr. Joy Dental Clinic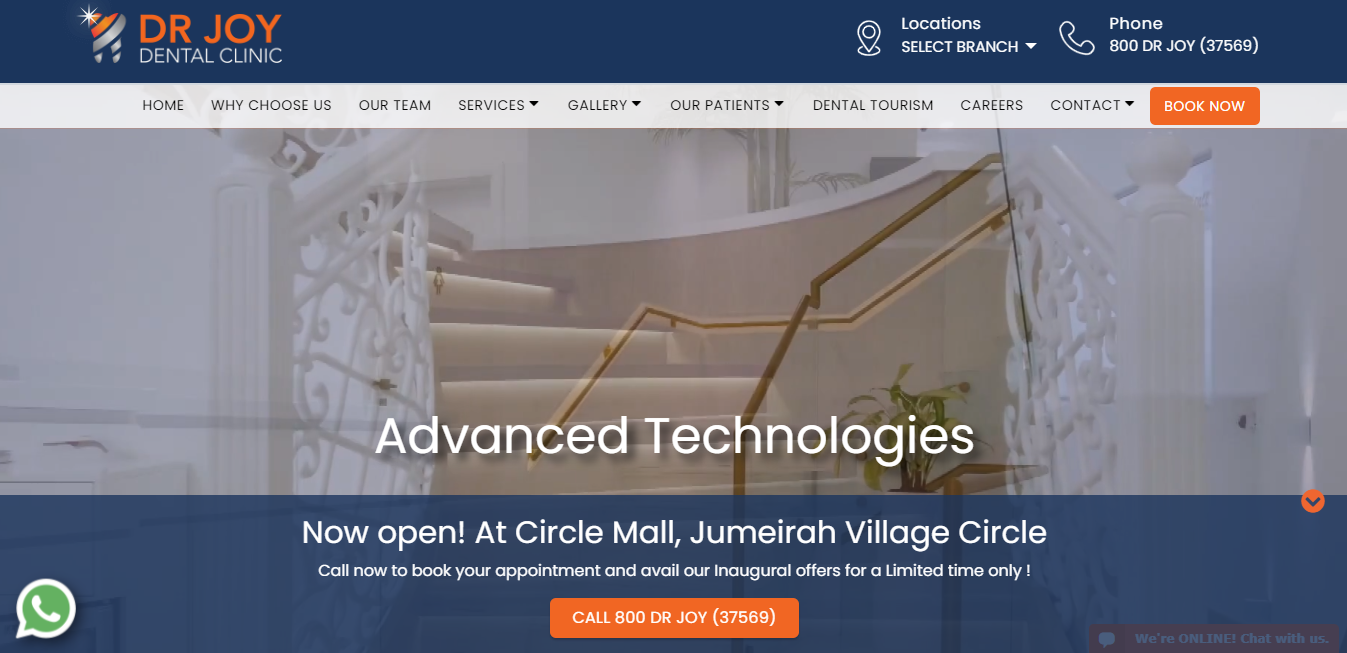 For all kinds of dental treatments, Dr. Joy Dental Group is an exceptional dental care with seven clinics in Dubai. With a proficient and experienced team of dental surgeons, prosthodontists, and oral and maxillofacial surgeons, the dental clinic is dedicated to providing all types of oral treatments. Be it zoom teeth-whitening procedures or diode laser whitening, you will be treated with effective and high-quality dental treatments.
Their Philips Zoom! Take-Home Whitening Kit is an excellent investment for those who want to do teeth-whitening at home in just 10 to 12 days.
Official website: https://www.drjoydentalclinic.com/
Timings:
All the clinics remain open 7 days a week from 9 AM to 9 PM.
View on Map

| | |
| --- | --- |
| Branch Location  | Contact Number |
| JUMEIRAH | +971 4 328 5332 |
| Umm Suqeim | +971 4 346 8333 |
| Palm Jumeirah | +971 4 243 5888 |
| BurJuman clinic | +971 4 355 5357 |
| Mirdif | +971 4 284 5722 |
| Dubai Silicon Oasis Clinic | +971 4 320 1307 |
| JVC Clinic | +971 4 579 9871 |
2. American Medical & Dental Center
A team of US/European qualified doctors working hard to provide state-of-the-art dental services to the residents of Dubai. With a multilingual team of female and male dentists and a relaxing atmosphere, the maximum health score of your teeth is 100% guaranteed.
American Medical and dental center provides zoom, laser, or even home teeth whitening procedures, which you may opt for according to your dentist's recommendation. These teeth-whitening procedures are done by professional oral hygienists. Whatever procedure you're opting for, it would be fairly quick and simple without damaging the outer layer of your teeth.
Official website: https://americanmdcenter.com/
Timings:
Sun – Wed: 8:30 AM to 9 PM
Thu – Sat: 8:30 AM to 6 PM
Location: Dubai Healthcare City, Al-Razi Building (#64) Block A, 1st Floor, 1002, Dubai, UAE.
Contact: +971 4 3748428
View on Map

3. Zee Dent Polyclinic FZE
Zee Dent is also one of the best and most affordable dental clinics located in Dubai Silicon Oasis. The team of dentists at this clinic provides the best dental treatments with the help of the latest technological equipments.
You can get any type of dental treatment at Zee Dent including root canal treatment, laser jaw pain treatment, myobraces, dental restorations, wisdom tooth extraction, teeth whitening, veneers, dentures, and much more.
Official website: https://www.zeedent.ae/
Timing:
10am – 11pm (All week)
Location: 
Office 1311-1312, Floor 13th- SIT Tower, Silicon Oasis, Dubai, UAE.
Contact:
+971 42687456
View on Map
4. German Dental Oasis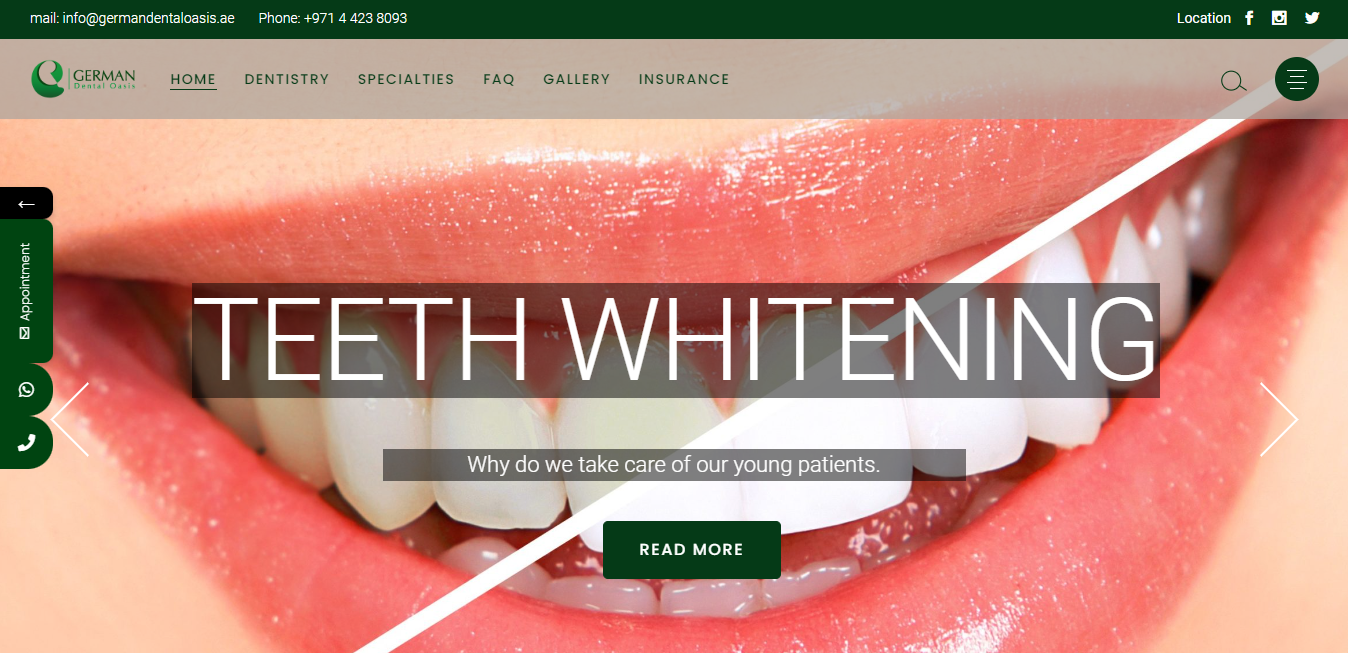 For those who are afraid of teeth-whitening procedures or suffering from hypersensitivity of teeth, German Dental Oasis is highly recommended for such patients.
Be it zoom, laser or home whitening treatment, they make sure to protect your teeth and gums through advanced teeth bleaching treatment that roughly takes 30 to 40 minutes.
German Dental Oasis is proudly running its own laboratory and German products so their dentists can actually work on dental products and provide their patients with only the best outcomes. The dental tools are autoclaved and sterilized through advanced techniques to ensure the utmost oral hygiene of every patient.
Official website: https://germandentaloasis.ae/
Timing:
The clinic remains open the entire week from 9 AM to 10 PM.
Location:
Dubai Healthcare City, Al Razi Medical Complex Building No. 64, Block C, 2nd Floor, 2017
Contact: +971 4 363 5367
View on Map

5. Micris Dental
Micris is one of the most luxurious and premium dental cares in Dubai that houses the world-class team of dentists from all over the world.
The exceptional dental team ensures to provide smooth and seamless teeth-whitening treatment for a better and white smile. The team at Micris Dental is armed with exceptional dental experience and specializes in a variety of dental procedures. An in-house digital dental lab is yet another attractive feature of Micris Dental.
Official website: https://www.micrisdental.com/
Timings
Sun – Fri: 8 AM – 8 PM
Saturday: 8 AM – 6 PM
Location:
Villa 108, Jumeirah Beach Road Dubai, United Arab Emirates
Contact: +971 4 330 0441
View on Map

6. Sky Clinic Dental Center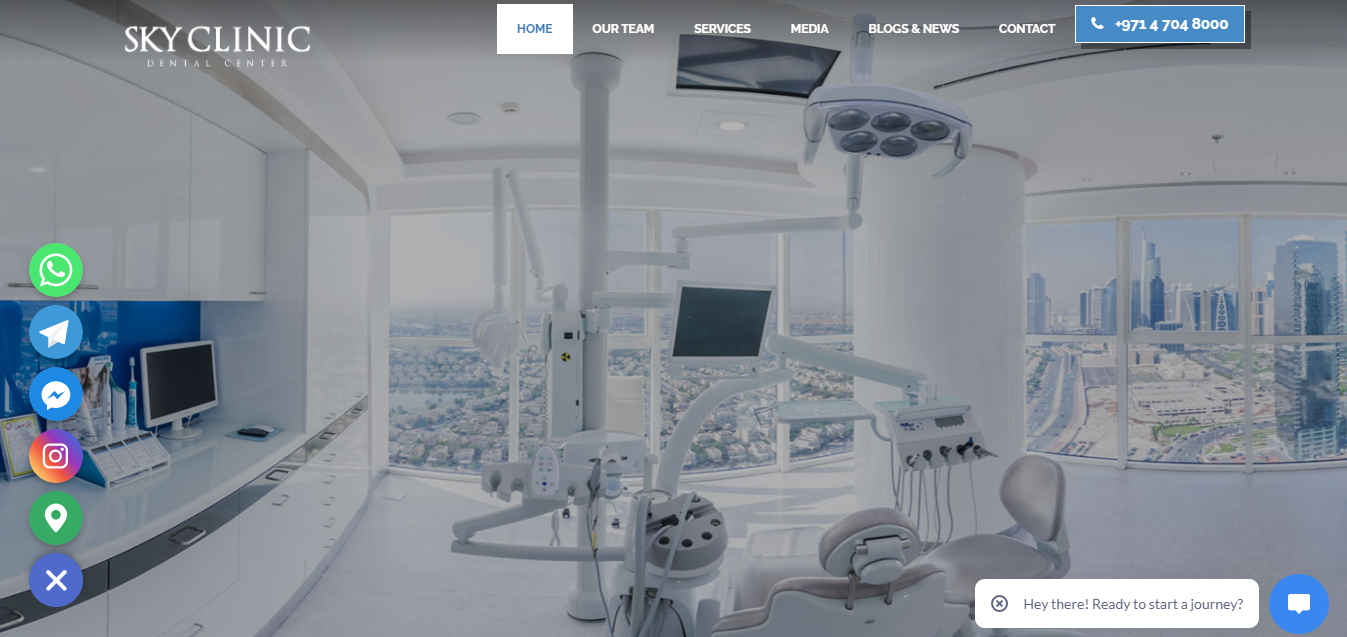 Sit back and relax and let the best dentists do the teeth-whitening procedure on your teeth at Sky Clinic dental center Dubai. The dental clinic claims to give its customers a shining smile and reverse the damage done by coffee, smoking, saffron-infused food, or colored vegetables, etc.
Sky clinic dental center offers comprehensive yet affordable dental services and is honored to be one of the most trusted dental clinics in Dubai. The cosmetic dentists at the clinic have vast experience working in the field of dentistry and claim to provide the best teeth-whitening makeover to your teeth.
Official website: https://skyclinicdentalcenter.com/
Timing
Sat to Thu: 8 AM to 8 PM
Friday: 8 AM to 8 PM
Location:
Cluster Y, Swiss Tower, 27th Floor, Jumeirah Lake Towers, Dubai, U.A.E
Contact: + 971 4 704 8000
View on Map

7. Dr Paul's Dental Clinic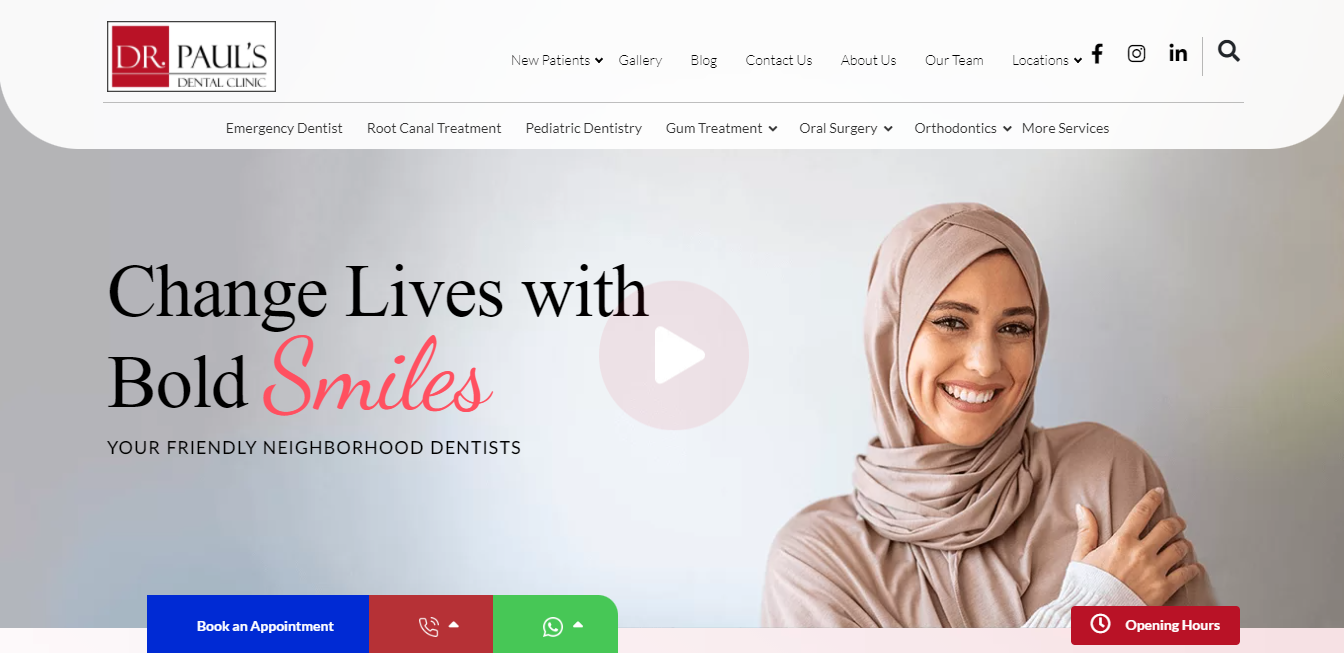 The clinic is encompassed with some of the finest dental surgeons in Dubai and is renowned for its expert dental treatments, especially painless teeth-whitening procedures. The clinic claims to provide a bright smile by saving your teeth from the adverse effects of bleaching chemicals.
Highly equipped with the latest technology & tools and advanced radiography system, DR Paul's Dental Clinic is a premium, multi-specialty dental clinic in Dubai backed by years of experience and a wide area of expertise. Besides providing effective teeth-whitening procedures, you can also visit the clinic for gum treatment, root canal treatment, oral surgery, crowning, braces, and other dental treatments.
Official website: https://www.drpaulsdentalclinic.com/
Timing
The clinic remains open on all days from 9 AM to 9 PM.
Location:
Office 101, 1st Floor, Al Nasr Plaza Offices, Oud Metha, Dubai
4001, Al Barajeel, Oasis complex, Mirdif, Dubai
Contact
+971 4396 5822 (Mirdif Branch)
+971 4357 5783 (Oud Metha Branch)
View on Map

8. Dentzz Dental Care Centers

Dentzz Dental is a class apart in terms of their cutting-edge dental technologies and an extensive team of experts from all across the globe. The clinic is internationally certified and follows hygiene protocols to ensure the maximum safety of patients during their dental treatments.
Talking about the teeth-whitening session at Dentzz Dental, under the assistance of world-class teeth makeover specialists, it is not just the finest but hi-tech as well in terms of its procedure.
The materials and tools used at the clinic are manufactured in the USA, Germany, and Australia and offer impeccable precision in diagnosis and treatments.
Official website: https://www.dentzzdental.com/
Timing
The clinic remains open from 9 AM to 9 PM the entire week except for Sunday.
Location: 1806, 18th Floor, Jumeirah Business Centre 3 (JBC -3), Cluster – Y, Jumeirah Lake Towers, Dubai
Contact: +971 55 999 8189
View on Map

9. Dental Studio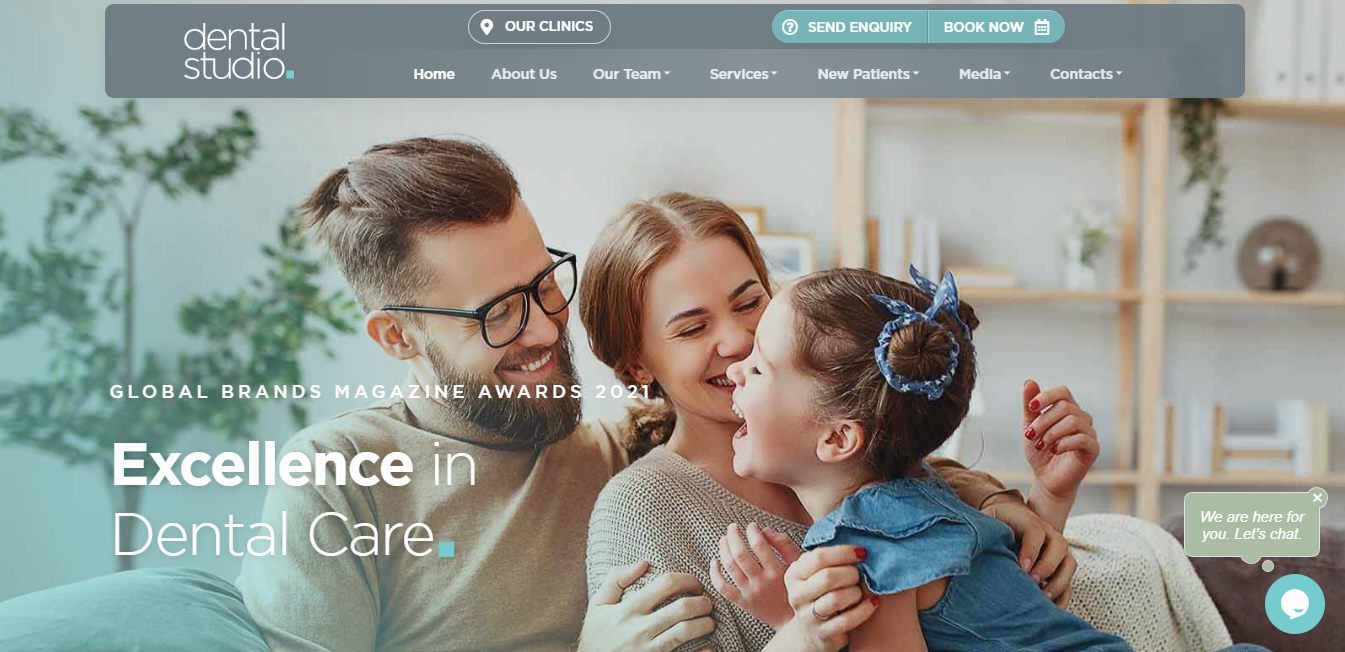 Dental Studio has been serving in Dubai for 45 years, and within this time span, it has provided a memorable and refreshing experience to dental patients. The work ethics, state-of-the-art dental facilities, apt techniques, and proficient dental team made The Dental Studio win the prestigious Global Brands Magazine Award 2021.
If you're looking for a professional and painless teeth whitening treatment in Dubai, The Dental Studio offers zoom teeth whitening treatment and home teeth whitening treatment to serve you with the best outcomes. Under the assistance of oral hygienists and cosmetic dentists, you will be able to provide your teeth with instant brightness.
Official website: https://www.thedentalstudio.ae/
Timing
Mon to Thu: 8:30 AM to 8 PM
Fri to Sat: 8:30 to 5:30
Sunday Closed
View on Map

| | |
| --- | --- |
| Location  | Contact Number |
| Villa 61, Umm Al Sheif Road, Dubai | +971 4 395 5095 |
|   Villa 469B, Jumeirah Beach Road, Dubai | +971 4 395 2524 |
| Villa 16/1194, Al Wasl Road, Umm Suqeim 2, Dubai | +971 4 519 3700 |
| Unit 8, Al Fattan Marine Towers, The Walk, Jumeirah Beach Residence, Dubai | +971 4 399 8440 |
| Suite 102, 1st Floor, Cayan Business Center, Barsha Heights, Dubai | +971 4 368 7070 |
10. Pearl Dental Clinic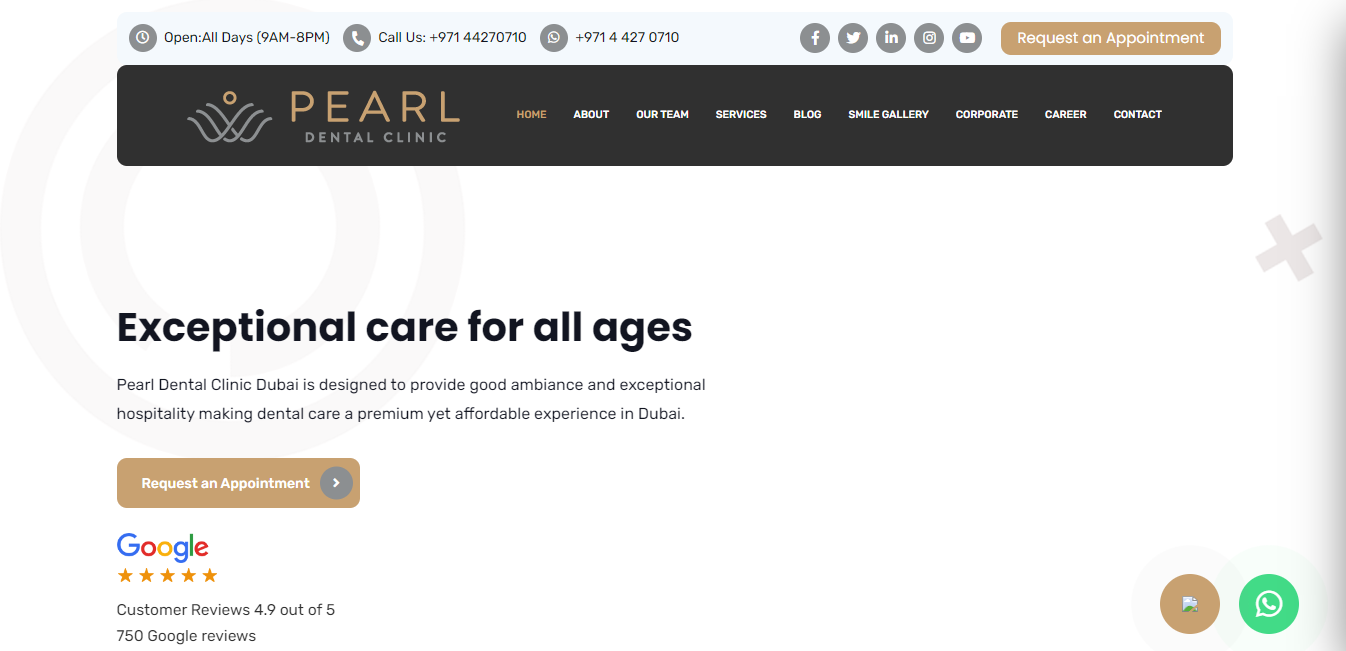 With the aim to provide highly personalized care and effective dental treatments, Pearl Dental Clinic is the leading dental services provider in Dubai. In an exceptionally comfortable environment, Pearl Dental Clinic offers the highest standards for all dental procedures, including braces, teeth whitening, dentures, dental implants, root canal treatments, etc.
Pearl Dental Clinic offers advanced dental care equipment to ensure that modern dental standards are followed while performing dental procedures. For teeth whitening procedures, expert dentists provide long-lasting, painless treatment that ensures maximum teeth health and long-lasting results.
Official website: https://pearldentalclinics.com/
Timing:
The clinic remains open all days a week from 9 AM to 8 PM.
Location:
Shop 3, Ground Floor, Citadel Tower, Near JW MARRIOTT, Burj Khalifa area, Business Bay, Dubai.
Contact: +971 4 427 0710
View on Map

11. Crossroads Dental Clinic
If you ask Google about the most trusted dental clinic in Dubai, there are high chances that Crossroads Dental would be among the top spots. For a stress-free and long-lasting dental treatment and especially teeth-whitening procedures, Crossroads Dental Clinic is hands down the finest place to visit.
With vast expertise of dental surgeons, orthodontics, and cosmetic surgeons, Crossroads Dental has set a class apart by consulting and treating patients for the best visible results. The multiple dentistry treatments are undertaken in a highly supervised, hygienic environment with advanced tools and methods. The easy installment plan is yet another appealing feature for all those patients who cannot afford dental expenditure altogether.
Official website: https://www.crossroadsdentalclinic.com/
Timing:
The clinic remains open on all days from 8:30 AM to 9 PM.
Location:
Office #803, The Tower Plaza Hotel Dubai, Sheikh Zayed Road, Beside Emirates Towers Metro Station (Exit 2), Dubai.
Office #505, Block A, Centurion Star Tower, Port Saeed, Opposite Deira City Centre Metro Station (Exit 2), Deira, Dubai.
Contact:
+971- 4 343 5424 (Sheikh Zayed Branch)
+971- 4 294 9757 (Deira Branch).
View on Map

Conclusion
Dental treatments require a lot of precision and hygiene, which is why only trusted and experienced dentists should be given the chance of doing the makeover on your teeth.
The above-listed dental care centers are the finest in Dubai and claim to provide teeth-whitening procedures in no time. These dental service providers also deal with patients with emergency needs on the same day. This dental care Dubai listing would help every dental patient to make an informed decision regarding their dental health.